Category: Altcoin news
Published: Wednesday, 24 March 2021
Written by Altcoin
BREW soon to be traded on centralized exchange
This is something I have been looking forward to, since I prefer trading by charts and marketmaking above trading into liquidity in onchain DEX, which is a slower progess.
Bitmart confirmed with an announcement on twitter: @BitMartExchange/status/1374781435429711873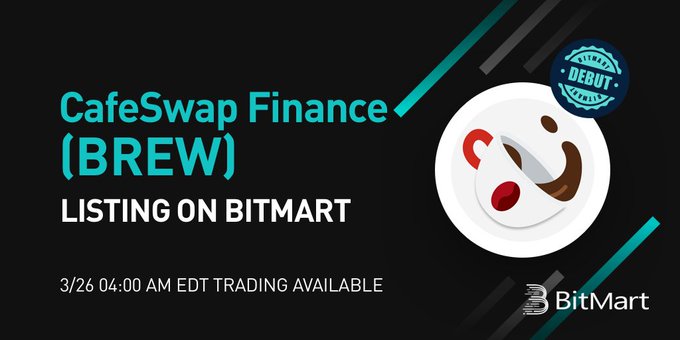 Sign up to Bitmart with my link: https://www.bitmart.com/en?r=PnQ7Th
It would mean a lot to me if you do!
If you want to buy cheap BREW upfront the listing NOW is the time to do it, on Cafeswap's own DEX:
NB: To be able to use the dex you need BNB for the network fees, which can be bought at exchanges like binance.com, kucoin.com, hotbit.io, mxc.com mandala.exchange. Of course, Bitmart.com also have BNB! 
Disclaimer: This article are in no way meant to be financial advice, and although yieldfarming may be lucrative there are also risks involved.